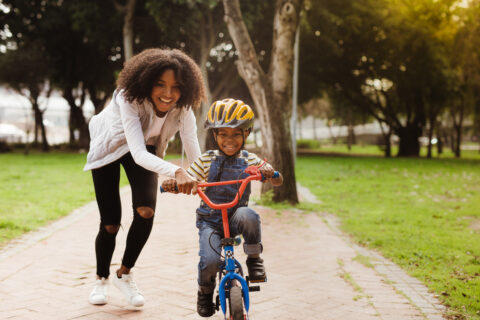 For some Ventura County residents, cycling is an appealing alternative to commuting by car. Cycling to work, school or to the bus reduces the number of cars on the road and helps protect our air quality. Concern for the environment has prompted government agencies like the Ventura County Transportation Commission (VCTC) to endorse cycling for both recreation and commuting.
It's Healthy
Bicycling to work can keep you in shape without having to set aside additional time for exercise. Bicycle commuters tend to enjoy healthier lifestyles, get sick less often, and feel less stress.
It's Smart
Bicycle commuting is one of the least expensive ways to get to work. There's no gas, maintenance, parking fees, or insurance to pay for.
It's Fast
In many areas trips by bicycle, door to door, are faster than by car, especially where the one way commute distance is less than five miles.
It's Clean
Bicycles don't pollute the air or require lots of land for roads or parking lots. Eight to twelve bicycles can park in the space required for one car.
It's Fun
A bicycle ride at the end of the day is a great way to relieve stress. Discovering routes on back roads through residential neighborhoods can be scenic and fun. It sure beats sitting in stalled traffic on the freeway!
Help to get you riding
Look for streets with bike lanes or wide curb lanes and with traffic lights at busy intersections. Try using recommended routes on regional bike maps. Test your route on a weekend or evening and time how long it will take.
Community Resources
Local Bicycle Clubs
Public Transportation
Gold Coast Transit (GCT) is pleased to provide you with bike racks on every one of our fixed-route buses. Now you can ride the bus to your destination and your bike rides for free! Each bike rack hold two bikes and space is available on a first-come, first-served basis. Click here for more information from GCT. Passengers should:
Notify the bus driver before loading a bike.
Load and unload bikes from the side of the bus nearest the curb.
Exit the bus from the front door and advise the bus driver that you will be unloading a bike.
Biking is fun, economical, and convenient. Whether you ride for pleasure, sport, exercise, or transportation, it's something a whole family can do together. It's also a great way to get or stay in shape. And given the diverse topography within Ventura County, the experience can be as easy or as challenging as you wish.
Need more information on bicycle routes throughout the County?
Ask the cycling community listserve; send an email to vcbc@yahoogroups.com