Another way to put fresh, organic fruits and vegetables on your table is to grow them yourself. However, if you live in an apartment or townhouse, you may not have the resources to plant your own vegetable garden. One solution is to obtain a plot in a community garden.
Resources
See the Guide to Ventura County's Garden Resources for information about gardening groups, community gardens, gardening clubs, classes and how to guides.
Visit the University of California, Master Gardeners program for gardening tips!
Garden Share
If you already have a garden or simply fruit trees in your yard, have you considered sharing some of your abundance with those in need of fresh produce in Ventura County? Garden Share is a Ventura County FOOD Share program to supplement community food needs. Local gardeners, schools, churches, neighbors and commercial growers "grow a row" and share it with their hungry neighbors. Click here to sign up!
Do you already have a garden and want to start donating excess fruits and vegetables? It's easy! You can drop off your produce at our FOOD Share warehouse, or contact Meg Horton mhorton@foodshare.com to have our volunteer gleaners pick it for you.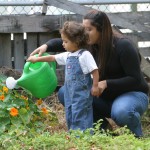 Community Garden Plots
The following gardens have plots that can be used by members of the community, usually for a fee. A great way to grow food if you don't have a yard, get started in gardening in a supportive environment, or spend time with friends and neighbors in the garden:
Camarillo
The Camarillo Community Garden. Visit their website or facebook page for more information, seasonal recipes, and gardening tips.
Oak Park
The Oak Park Community Garden, Kanan Road and Sunnycrest Drive. Each 10-by-20 foot plot is $84 per year, plus a deposit and two hours per month spent working on common areas.
Ojai
The Ojai Community Demonstration Garden at 401 S. Ventura St. is focused on the how-to of composting and planting specific types of gardens. There is no fee, but gardeners must attend monthly meetings and help with general gardening chores. Call 640-2560, ext. 200 for information.
The Ojai Valley Green Coalition's Community Garden offer plots, gardening education and an annual seed swap program.
Oxnard
The Senior Vegetable Garden is open to Oxnard residents 55+. Visit the garden at 531 E. Pleasant Valley Rd. or call the Wilson Senior Center at 385-8028 for more information.
The Community Roots Garden, 1801 Joliet Place.
The KaBOOM! Playground, Nyeland Acres, 3334 Santa Clara Avenue. Call 805-485-3111 for more information.
Camino del Sol Community Garden. Visit the garden at the intersection of Camino del Sol Road, Garfield Avenue & Entrada Drive for more information.
Dr. Manuel M. Lopez Community Garden.  The Doctor Manuel Lopez Garden was inaugurated in June 2011 in honor of former mayor of Oxnard, Dr. Manuel M. Lopez who generously donated his land for our use. It is a non-profit community garden open to the public to enjoy, share and learn. Located at 111 S. A St., Oxnard, CA 93030. Call 805-263-7789 or email: drmlopezgarden@gmail.com.
Piru
The Freedom Ranch & Community Garden Project, 3543 E. Telegraph Road.
Santa Paula
The Santa Paula Community Garden.
Simi Valley
The SIMI at the Garden, 1636 Sinaloa Road.
Thousand Oaks
The Las Flores Community Garden, 1300 Avenida de las Flores.
California Lutheran University Community Garden, a community sustainability initiative.
Ventura
The Cornucopia Community Garden. Visit the garden located on the South side of Telephone Road between Johnson Drive and Ramelli or call 805.658.4754 for more information.
The Jordan Avenue Community Garden, 336 Jordan Avenue. Call 805.659.1947 for more information.