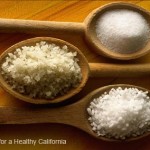 Salt has been used to flavor and preserve food for hundreds of years – yet too much salt is bad for your health. Salt has been linked to increased blood pressure levels – not just in adults, but also in children and teenagers. This can lead to heart disease and stroke in later life.
Some scientists think that reducing our salt intake would reduce deaths from stroke by one third, and deaths from heart disease by one quarter. Having a high salt diet has also been linked to obesity in children and teenagers, possibly because it increases the amount of sugary drinks that they consume. High salt foods such as pizza, chips and ready-meals and are often high in fat and calories – so by reducing intake of salty foods we can also reduce the amount of fat that we eat.
How Much is Too Much?
Adults should aim for a salt intake of less than 5g (less than 1 teaspoon) per day.
The levels for children under 10 are much less than this – children under the age of 6 should consume no more than 3g of salt per day (1/2 teaspoon in total).
Unfortunately, most of us consume too much salt – with much of this being "hidden" in everyday food such as bread, cereals and soup and processed foods such as fries, pizza and chicken nuggets. It can be difficult for parents to ensure their kids don't consume too much salt – but these tips may help:
Take Salt Off the Table
If you restrict access to salt, your kids won't consume as much and you will be helping them to develop healthier lifestyle habits.
Don't Add Salt
Don't add salt to any food for children under the age of 3. We develop tastes at a young age and if we learn to eat more natural foods then the saltier versions may become less desirable as we get older.
Go For Low-Salt
Choose lower salt varieties where possible. Many food producers make lower salt versions – much of the salt in foods can be reduced without even being detected by our taste buds.
Spice it Up
Use other herbs and spices to flavor foods. For example, coat fresh potato wedges with dried herbs and garlic before baking in the oven instead of buying frozen wedges that already having a coating containing salt.
Dump the Junk
Swap snacks such as chips for unsalted nuts and seeds or freshly made popcorn (vs. high salt microwave popcorn). Portion these into little snack size packs so that there is a convenient snack option available when you need it – higher in fiber and lower in fat so the health benefits are multiple.
Read the Label!
Avoid high salt products: Try to find bread that contains less than 1g salt per 100g – this may be difficult, but try to buy bread that contains as little salt as possible.
Cut Back
Cut down on high salt foods for your family: bacon, sausages, cheese & ham. With time, our bodies and taste buds will grow to appreciate less salty foods.
Sources: ParentsforHealth.org and World Health Organization Salt Intake Guidelines