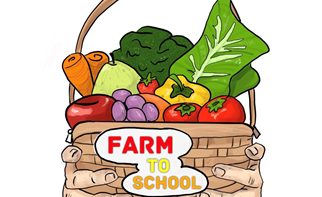 Farm to School is broadly defined as a program that connects schools (K-12) and local farms with the objectives of serving healthy meals in school cafeterias, improving student nutrition, providing agriculture, health and nutrition education opportunities, and supporting local and regional farmers.
Living in Ventura County, one of the richest agricultural communities in the state, schools have the unique opportunity to connect with local farmers and improve children's diet and knowledge of nutrition.
Local Resources
 State & National Resources
Ventura Unified Farm to School Program Video
Harvest of the Month
HARVEST OF THE MONTH is a fun and healthy way to positively impact students' preference for and consumption of healthy fruits and vegetables. The program introduces seasonal produce to students in the classroom on a monthly basis through exciting classroom events, such as cooking demonstrations, school garden activities and fun taste tasting activities. Students are able to not only taste the produce, but learn about it in the classroom, and see it in school environments including gardens, cafeterias and on bulletin boards. Click here to learn more and for resources.
Environmental Education Resources