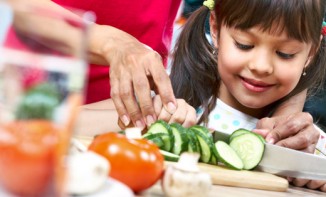 Today, about one in three kids in America are overweight or obese, nearly triple the rate in 1963. With good reason, childhood obesity is now the No. 1 health concern among parents and physicians in the United States, topping drug abuse and smoking. Among children today, obesity is causing a broad range of health problems that previously weren't seen until adulthood and leading to shorter life spans.
Obesity related health problems include:
high blood pressure
type 2 diabetes
elevated blood cholesterol levels
There are also psychological effects: Obese children are more prone to low self-esteem, negative body image and depression. As our culture becomes more sedentary and our diet becomes more loaded with sugars, fats and processed foods, children need strong guidance and role models by their parents, schools and community.
Lasting Fitness & Nutrition Benefits
The habits and priorities that a child learns in their early years will go with them throughout their adult life. Healthy eating and active living can stabilize children's energy, sharpen their minds, and even out their moods- giving them the start they need for the rest of their lives. Thus, it is essential that children are taught the lessons of daily fitness and nutrition.
Being physically active each day and eating a diet rich in fruits, vegetables, whole grains and healthy protein are simple ways to make your family healthier. These healthy habits help your kids:
Concentrate and do better in school
Grow and develop a strong body and bones
Feel good about themselves
Lower their future risk of diseases like obesity, type 2 diabetes, heart disease and certain cancers
Fitness Basics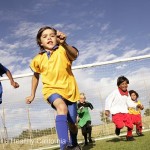 Children and adolescents should do 60 minutes (1 hour) or more of physical activity daily. They should combine the different kinds of exercise (aerobic, muscle strengthening and bone strengthening) to total 60 minutes each day. For example, children could do 35 minutes of running around a playground with a ball/ swimming, 10 minutes of monkey bars/ push-ups, and 15 minutes of jumping rope/ bicycling to reach 60 minutes. Visit here to get more tips on how to get your kids active.
Group Activities/ Sports
Being active with others is a key motivator to staying fit. Help your child identify the kind of sports or exercise they would like to participate in. Keep the focus on what you enjoy most! Try one of these ideas:
Go for walks with a friend or your parents
Hike or swim on the weekends as a family
Try dance, gymnastics, aerobics, or yoga classes
Join a Parks and Recreation or after school sport program
Participate in community sports programs like AYSO soccer, softball or football leagues
Pull the Plug on TV/ Screen Times
The American Academy of Pediatrics (AAP) recommends that kids under 2 years old not watch any TV and that those older than 2 watch no more than 1 to 2 hours a day of quality programming. Despite some educational opportunities, too much television can be detrimental:
Children who consistently spend more than 4 hours per day watching TV are more likely to be overweight.
Too much TV results in less play time and less physical activity.
Children who watch higher levels of TV often perform more poorly in school.
Kids who view violent acts are more likely to show aggressive behavior and also to fear that the world is scary and that something bad will happen to them.
TV characters often depict risky and unhealthy behaviors.
Read more about the effect of TV on a child's health on our Screen Time and Children's Health page.
Leave No Child Inside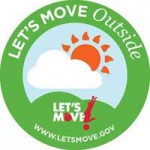 Getting active outside helps to improve a child's coordination, balance, and agility. Keep kids healthy mentally and physically by making time for play each day. By enjoying nearby parks, trails and waters, children and families will develop a more active lifestyle- and reap the benefits. Read more on our Connect with Nature page.

Tips to Promote Healthy Childhood Eating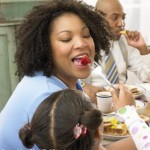 As active parents, we often want to give our children what is easy, quick and we know will please. This does not always promote good health choices. During a child's first 18 years, children are building their foundation for a healthy lifetime. For example, the calcium consumed in the early years is the storehouse for the latter years bone health. Here are some tips for increasing healthy eating in your home.
Have regular family meals
Knowing dinner is served at approximately the same time every night and that the entire family will be sitting down together is comforting and enhances appetite. Breakfast is another great time for a family meal, especially since kids who eat breakfast tend to do better in school.
Cook more meals at home
Eating home cooked meals is healthier for the whole family and sets a great example for kids about the importance of food. Restaurant meals tend to have more fat, sugar, and salt. Save dining out for special occasions.
Get kids involved
Children enjoy helping adults to shop for groceries, selecting what goes in their lunch box, and preparing dinner. It's also a chance for you to teach them about the nutritional values of different foods, and (for older children) how to read food labels.
Make a variety of healthy snacks available
Keep plenty of fruits, vegetables, whole grain snacks, and healthy beverages (water, milk, pure fruit juice) around and easily accessible so kids become used to reaching for healthy snacks instead of empty calorie snacks like soda, chips, or cookies.
Limit portion sizes
Start with small servings. It is better to offer more than push a child to eat too much. Read about appropriate portions sizes at the American Academy of Pediatrics Child Serving Sizes.
Limit sugar
One of the biggest challenges for parents is to limit the amount of sugar and salt in their children's diets. The American Heart Association recommends that sugar intake for children is limited to 3 teaspoons (12 grams) a day.
Cutting back on candy and cookies is only part of the solution. Large amounts of added sugar can also be hidden in foods such as bread, canned soups and vegetables, frozen dinners, ketchup, and fast food. Read more on our Sugar and Kid's Health page.
Source: American Heart Association, American Academy of Pediatrics
Local Resources for Children and Families
Hulafrog Ventura
Macaroni Kid for Ventura, Camarillo and Oxnard