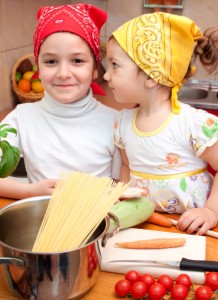 Recipes for Kids
Giving kids the resources and support to learn about foods, how they are grown, and ways to create tasty meals are key steps to fostering a lifelong healthy diet and love for healthy food. At the earliest of ages, children are "cooking" with grass, leaves, rocks and dirt during outdoor play. Now take the joy of cooking into a real kitchen where more fun is to be had.
Kids, if you're hungry, grab your apron and get cooking! Making food yourself – with a little help from a parent – is a great way to learn about food and meal preparation. And we have plenty of recipes for you to try – from pizza to pancakes! Keep in mind that patience, some parent guidance and clean-up instructions are important ingredients in the process. See the following online resources:
ChopChop, the Fun Cooking Magazine for Families, is a quarterly food magazine and website for kids aged 5-12 and their families. ChopChop is published by ChopChopKids, a Massachusetts non-profit corporation, offering recipes, food facts and gardening guides.
Nourish Interactive  is a free one stop resource for fun nutrition games for kids, healthy recipes for kids and adults, and interactive nutrition tools and tips for parents and health educators to use to promote healthy living for the whole family. Created by nutrition and health care professionals, Nourish Interactive's nutrition education website gives children and families the knowledge and skills they need to make healthy choices.
"Just For Kids Recipes" is created by the American Academy of Pediatrics- simple and ready to for the plate.
For the Smallest Chefs
Even toddlers are ready- and willing- to cook, such as stirring and rolling out the dough for whole wheat biscuits or cutting soft fruits, vegetables and cheeses out of child friendly butter knives. They will not only enjoy the process, but will also be more interested and appreciative of trying the foods they cook with.
Basic "Kindergarten" Bread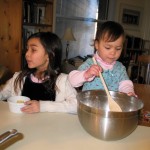 Easy for children aged 2 years and up
Yeast mixture:
1 packet yeast
1 c warm water or milk
1 t. honey
Dough Mixture:
6c flour- ( 3c whole wheat, 3 cups unbleached all purpose)
1 t. salt
3c water
1/3c honey
1/3c oil (vegetable or olive)
Instructions:
1. Preheat oven to 350 degrees. Oil a baking sheet or place baking stone in the oven as it preheats.
2. In a large mixing bowl combine water, honey, oil and yeast. Allow it to sit for 5 minutes so that the yeast can foam a bit.
3. With a wooden spoon, gradually mix in the flours of your choice until your dough becomes too stiff to stir anymore.
4. Lightly flour your board or counter top. Split the dough based on how many children you have who want to knead the dough. Knead for about 5 minutes or so.
5. Roll the dough into small buns and place on an oiled baking sheet or on warmed baking stone (be careful not to let small hands touch the stone). Bake for 15-20 minutes or until golden brown.
6. Let cool slightly, then add a little butter, jam, almond butter or whatever you like and enjoy!