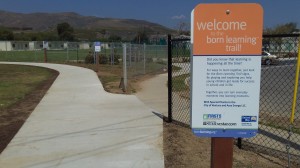 First 5 Ventura County in partnership with United Way of Ventura County introduced the Born Learning campaign, an innovative public engagement campaign that helps parents, caregivers and communities create quality early learning opportunities for young children in everyday activities.
A part of the campaign are Born Learning Trails, which encourage creative outdoor learning opportunities for young children five and under. Born Learning Trails are located in public spaces accessible to all families in the community. They consist of colorful "stations" that encourage learning and physical activity for a young child and parent (or caregiver) to do together.
The current Born Learning trails are strategically located in parks nearby a First 5 NfL, where young children and their families often attend early education, early learning and parent education classes or are connected with local resources for health, developmental screenings, oral health and nutrition.
Through partnerships with Parks and Recreation Departments and community volunteers, First 5 and United Way have thus far installed Born Learning Trails in four communities in Ventura County.
Santa Paula
Rodney Fernandez Gardens
212 W. Santa Barbara St.
Santa Paula, CA 93060
Video
Ventura
West Park Community Center
450 W. Harrision Ave
Ventura, CA 93003
Oxnard
Rio School District Office of Student & Family Services
3334 Santa Clara Street
Oxnard, CA 93036
Thousand Oaks
El Parque de la Paz
2580 Pleasant Way
Thousand Oaks, CA 91362
Simi Valley
Berlywood Park
1955 Bridget Ave
Simi Valley, CA 93065