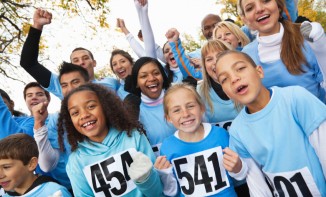 Helping our children to be active is a vital way to ensure that they lead happy and healthy lives. Regular exercise helps children to avoid illnesses like heart disease, stroke and certain cancers, reduces stress and can even help children to do well at school.
Also, encouraging children to be active also helps them to burn off excess energy and will leave them (and you!) in a better mood! Being active is crucial for good health and helps prevent obesity and serious illness in later life.
Tips to Get Your Kids Active
Children and adolescents should do 60 minutes (1 hour) or more of physical activity daily.
1. Get Interested
Show an interest in any activities your child likes and encourage them to try out new physical activities. If your kid loves ballet, it's time to suck up any personal reservations you might have and get behind your child!
2. Active Transportation
We can all be more active as part of our daily lives. Walk rather than drive and encourage your kids to cycle and walk where possible. If you're out with the kids on the bus, why not get off a stop early and walk the rest of the way to your destination? Being active throughout daily life by walking and cycling is a great way for your children to achieve their daily 60 minutes of activity.
3. Sporty Kids
Playing sports is a great way for children to be active. Sports can help children through tough periods and put them on the path to a healthy adult life. The Women's Sports Foundation has conducted research on the link between academic success and sports for women and girls. Their research shows that:
Half of all girls who participate in sports have higher than average levels of self-esteem and less depression.
80 percent of women identified as key leaders in Fortune 500 companies participated in sports during their childhood.
Women who are student athletes graduate at higher rates than women students generally.
Girls who participate in sports are less likely to do drugs, less likely to get pregnant, and more likely to graduate from high school than those who do not play sports.
If your kids don't like traditional sports, there are lots of alternatives: mountain biking, skateboarding, BMX, mountain climbing & surfing are all excellent and are widely available throughout Ventura County.
Schools can help children to be more active by offering alternative sports and activities such as hip-hop dance, tae-kwon-do, step aerobics, zumba etc. It's important that children should have access to activities that interest them. If you find that your child is not interested in taking part in PE at school, find out what's on offer and encourage the school to provide alternative physical activities.
4. Shall We Dance?
Not all kids are into sports, but there are lots of other ways to be active. Hobbies such as dance are excellent ways to get kids moving. Dance is an excellent way to develop fitness, agility, balance and co-ordination. Hip hop dance, street dance, salsa, tap, ballet & Irish dancing are great ways to keep your kids active.
5. Take Control of the TV
A recent study by the Kaiser Family Foundation found that children spend on average 7 hours per day in front of a screen: watching TV, surfing the web and playing computer games. How is this possible: (before school, during school, after school and before bedtime). This amount of screen time makes it really hard for kids to have an active healthy life. Take control of the TV, and ration their screen-time! See our article on TV and Kid's Health.
6. Get Active Yourself!
You are your child's most important role model – so if you are a couch potato, don't expect your kids to be active! Get yourself active – the habit will rub off on your kids.
7. Get Active Together
Why not bond with the kids by doing some physical activity together? It's important that you set a good example – you are your child's most important role model – and the activity will improve your own health as well!
Go for walks or play active games together
Play a game of ball together
Join an exercise class together
Play physical games with family and friends (tag, frisbee, catch, hide and seek)
Plan a nightly jog or walk
Go golfing as a family
Play a game of one-on-one basketball or soccer with family
8. Play Every Day!
All work and no play certainly makes for a dull life. Children (of all ages!) need to play, and adults need to set the scene so that children can lead their own play activities.
Probably the best way to ensure that younger children achieve the recommended minimum 60 minutes of physical activity per day is to let them play. Unstructured and unsupervised play is a great way for children to be active. If you can't let your children play without supervision, try to watch over them from a distance. See our article on how to encourage active play.
9. Bring Water!
Be sure to take water with you if you will be out for 30 minutes or more. Check out our children's hydration tips to encourage your children to stay hydrated.
10. Check the Parks and Recreation Guides
Ventura County organizations and individual city Parks and Recreation have fun family ideas. Our Parks and Recreation page offers a guide to organizations in your community offering classes, activities and opportunities for fun and fitness.
11. Check out these local resources for other recreation opportunities:
Hulafrog and Macaroni Kid for Ventura, Camarillo and Oxnard
Sources: Parents for Health, Let's Move!