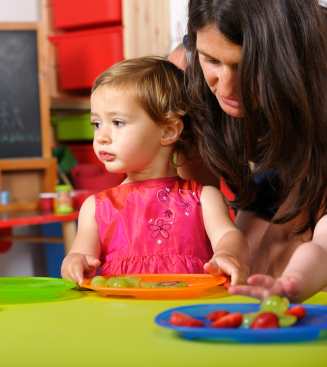 Picky eating can be incredibly stressful for parents. You try to ensure that your kids eat a healthy diet, but they seem to reject the healthy foods that you offer. The good news is that children usually grow out of fussy eating before they reach their teens – and there are a lot of things that you can do to help your children overcome fussy eating.
With some perseverance (and a lot of patience!) you can help expand your child's food horizons. The following tips might make the fight against fussy eating a bit easier to win.


1. Involve your Children
Involve your children in writing out shopping lists, planning dinners and choosing healthy foods. Children are more likely to try foods that they've helped to prepare and choose.
2. Control the Cupboards
Children will generally eat what's around, so parents have a great deal of control over their food habits. If a certain food is not in the house, children will eventually stop asking for it. If they want a snack, they'll have to reach for an apple instead of a bag of chips.
3. Don't Use Food as a Reward
Don't use sweets as treats or rewards – this reinforces an idea of junk food as a good thing.
4. Don't "Force" Feed
Forcing children to eat something they don't want is a bad idea. Children should decide if they are hungry, what they will eat (from the food served), and when they are full. Forcing children to clean their plate teaches children to ignore feelings of fullness, which may lead to overeating.
5. Turn Off the TV
TV watching distracts children from the food that's in front of them, and makes overeating more likely.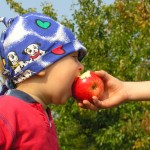 6. Encourage Healthy Snacking
Our bodies are not designed to eat three large meals a day. Children especially do well eating healthy snacks of fruits and vegetables, nuts, cheeses and whole grain breads during the day. Processed snacks have the opposite result. They fill kids up and take away their interest in healthy foods. Avoid with care.
7. Be Consistent
Having a structured day which includes structured mealtimes can really help children build healthy eating habits. If your child is a fussy eater, keep serving the foods they refuse. Don't force them to eat and remain positive. A child can try a food as many as 10 times before they decide whether they like it or not. If you don't serve it, you can't expect them to try it.
8. Have Sit-down Meals
Kids who sit down to regular family meals are more likely to have a healthier diet and appreciate their food. Try to put nutritious food on the table and aim for a time when everyone can sit down together.
9. Ignore the Tantrums
Research shows that coaxing, pleading and yelling at your children to encourage them to eat simply doesn't work.
10. One Step at a Time
Try introducing new foods one at a time. Once your child has mastered one food, move on to the next.
11. Set a Good Example
You are your child's most important role model, and the best way for you to encourage healthy eating is to set a good example by eating the same foods you expect them to eat.
12. Be Creative. Sneak in fruits and vegetables
Try preparing foods in different ways that might be more appealing or novel to children. See our Sneak in Fruits and Veggies page for more ideas.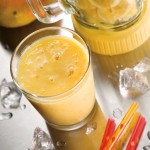 Blend fruits to make smoothies
Blend vegetables to make soups
Mash vegetables with potatoes
Cut fruit and vegetables into different shapes
Try raw or steamed vegetables
Dilute juice with water
Source: Parents for Health